It's April 23rd, 2006. In the small Canadian town of Medicine Hat, the bodies of Marc and Debra Richardson are found dead in the basement, both stabbed repeatedly. Upstairs, their 8-year old son is found - also dead. The scene is horrific, and that escalates when they see pictures of the daughter. Her body is nowhere to be found. They fear that she has been taken captive, and immediately put her name and picture out to the press in hopes of finding her. During the search, the police look inside her school locker. Inside is a picture.
A very disturbing picture.
It is a picture of a girl with her family at a picnic, and she's very angry. She gets some gasoline and puts it in the sprinklers. When the gasoline gets over them, she sets them on fire. She and her boyfriend laugh as they run around on fire screaming for help, as they go "Haha, you're burning alive!"
The picture above is a picture of the daughter when she was 8. Here she is at 12.
Meet Jasmine Richardson.
Jasmine has lately been getting into some eccentric things. She proclaims herself gothic and a Wiccan, as well as having an interest in human anatomy and blood, as she wrote on her MySpace page. But that's not all, she's also been getting involved with this young man here, Jeremy Steinke.

Jeremy Steinke is a 23-year old man who, like his lover Jasmine, has an interest in the Wiccan culture, among other dark concepts. He also proclaims himself to be a 300-year old werewolf, and has a violent record. Clearly a match made in heaven, these two involve themselves in a lengthy relationship and - more disgustingly - a sexual one.

But - for SOME reason - Jasmine's parents aren't crazy about Jeremy Steinke. Perhaps it's the age difference. Perhaps it's his dark nature. Or perhaps it's because she's having sex with him at the age of 12. Whatever the reason, Jasmine's parents forbid her to see him. Of course, being a gothic preteen, Jasmine reacts with angst and insecurity. Now that her parents have successfully ruined her life, she defies them by seeing Jeremy in secret and let's him in on her growing hatred. She says she wants to kill them.

Hey, I've had the teen angst moments too, we all have, but this is maybe a little far. And so I would like to pause at this part to address a concern I've seen in several message boards. The idea that there was some kind of "abuse" going on here. That the parents had essentially kept her in a prison and interfered too much in her life. By all means, it is true that many female killers are the way they are because of some kind of abusive history. It often messes up their psychology to make them more angry, hateful, insecure, or unconnected.
However...
This does not qualify as abuse. I have a baby sister who I'm extremely protective of. I get an aneurysm when she picks up a piece of string. If she's 12 and dating a 23-year old loony who thinks he's a fucking werewolf, then I am putting my foot down. There is nothing outrageous about the reaction of her parents. I can't imagine anyone wanting their children to be anywhere near such a nutcase.
Eventually, they begin planning the murders. On the night of April 22nd, the killings begin.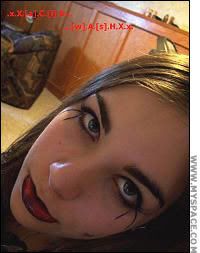 Jeremy sneaks into the basement. Debra Richardson, hearing a noise, goes down to check it out. She turns on the light to find Jeremy with a knife. She yells as Jeremy grabs her and stabs her repeatedly, yelling "Die! Die! Die! Die!" The father comes down seeing his wife being murdered and tries to fight back. Marc Richardson grabs a screwdriver and swipes at him. But it's no use, as Jeremy is better armed. According to Jeremy, before Marc died, he asked "Why?" and Jeremy said "`cause you treat your daughter like shit, she wanted it this way."
Upstairs, Jasmine is trying to strangle her brother, which I suppose is the humane way of killing your siblings. Jeremy comes up soaked in blood and tells her that she needs to kill his brother. Jasmine recalls the conversation as "He yells at me, 'Stab him, just stab him! Slit his throat!' I said, 'I can't, I can't,' and he said, 'You have to. I did this for you.'"
Jasmine gives in and grabs the knife. As she nears her brother, he cries in fear, yelling "I'm scared! I'm too young to die!" His pleas for life are in vain, however, and she stabs him in his upper body. Steinke finishes the job by slashing his throat.
Following the killings, Jasmine and Jeremy go to a friend's apartment to have sex.
Obviously, leaving clues like drawings of you laughing at your family's death doesn't imply that these two had put much thought in getting away with this. They were caught the next day on April 24th. While in prison, the two exchange letters. It is sometimes nice when we see someone who commits such atrocities try to apologize to the community, as futile and unfulfilling as it may be. However, we don't get that, and instead we get something more like a preteen instant message, which I suppose it was in some ways.
Steinke to Jasmine:
"I love you more than life its self, I've added you to my visitors lists so once your released please visit often. Never forget how much I care or that I love you. We can keep writing each other till we can be together again. Without you this life isn't worth living… U said you want to get engaged? Then here's a Q...Will U marry me? If so then it is a verbal agreement!" [sic throughout].
And back:
"Ahahaha! I never thought I'd find myself hystericaly laughing in a holding cell in these kinds of circumstances...or ever really. But still! ahaha you make me so happy! Yes! Yes! I will, I would love to… Interesting information I came across. Anything you can say to anyone, including a phycistrist, unless issued by a lawyer can be used against you! For fucks sake. Rawr. The world really is against us." [sic throughout].
They're not exactly devastated by what they've done, and seem to not have a great handle on how dire the situation is.
At least for Jeremy.
Jeremy Steinke was sentenced to 3 life sentences, and will be eligible for parole after serving 25 years. What happens with Jasmine is much more shocking.
Due to the Youth Criminal Justice Act, the lowest age someone can be sentenced is 12, which is perfect for Jasmine. However, anyone under the age of 14 can NOT be charged as an adult. Jasmine is charged with triple homicide (despite not actually killing her parents, she was part of a conspiracy to do so) and is given the maximum sentence someone of her age can receive.
Ten years.
According to the same act, someone of her age can not have her name released by the press. However, I am not a Canadian citizen, nor am I affiliated with any sort of press, and so I have and will happily published her name, because it is a matter of my opinion that someone who plotted to kill her family at TWELVE and will be released in less than a decade should have their name known. I guess it's just my opinion that some people might want to be wary of a murderous psychopath in their community.
Keep an eye out for this one. She is, by far, the most interesting murderer I've ever researched into to.
Fun Facts
*Jasmine Richardson is the youngest person in Canada to be charged for multiple homicides.
*Before the murders, Jeremy Steinke and some friends watched the movie Natural Born Killers.
*Steinke's friend, Kacy Lancaster, was charged with being an accessory for disposing of evidence, although she did so unintentionally.
*Jeremy and Jasmine broke up in prison. Whoops!